Burt's legacy lives on
17 February, 2019
Southland Motorcycle Club president Andrew Underhay (left) and ILT Foundation chairman Alan Dennis with the Indian Scout 1200 which was ridden by Burt Munro's great-nephew Lee Munro on the Bonneville Salt Flats, US last year.  Photo: Lisa-Maree Fleck 
 The club had loan of the "new Indian" motorcycle, which was built in 2017 to mark the 50th anniversary of famous Southlander Burt Munro's world record on the Utah salt flats at Bonneville. 
For more information on the Indian, go to https://i.stuff.co.nz/southland-times/109275430/spirit-of-munro-brings-bonneville-to-oreti-beach 
About the organisation
 The Southland Motorcycle Club has about 390 members, involved in speedway, motocross and road racing divisions. 
 The club hosts the popular, high-profile motorcycle rally, the Burt Munro Challenge, each year. Since its inception in 2006, the challenge has become an internationally renowned motorcycle event, attracting riders from around New Zealand and the world.  
 The challenge involves six events: Bluff Hill Climb, Twilight drag racing, a beach race on the sands of Oreti Beach, Oreti Park speedway, Teretonga sprint racing and a street race on the streets of Invercargill. 
 In addition to hosting the annual Burt Munro Challenge rally, the club runs speedway meetings fortnightly during the season, nine road racing circuit meetings a year and one endurance event a year.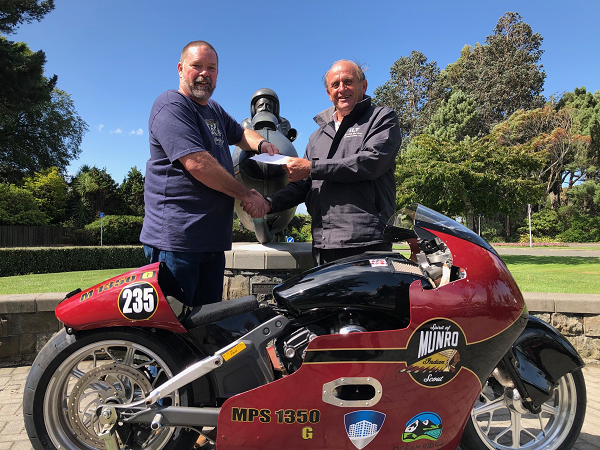 What the grant went towards?
 The Southland Motorcycle Club received funding of $40,000 from the ILT Foundation towards the costs associated with providing first aid for the 13th annual Burt Munro Challenge in February this year. 
 The Foundation has supported the event since its inception in 2006, providing more than $375,000 in support over that time. 
What the grant means to the organisation/community group
 "Without the support from the ILT and commerce/businesses, the Burt wouldn't have gone on to become what it is today," Southland Motorcycle Club president Andrew Underhay said. 
 The ILT Foundation funding went towards covering the first aid costs associated with running the events, he said. Ambulances were required to be in attendance at every event of the Burt Munro Challenge, costing $1000 per ambulance per day, and more than one ambulance was needed at some events, he said. 
 "The event has had an exemplary safety record since the inaugural Burt Munro in 2006 and we never skimp on safety. 
 "Our proactive stance on safety is one of our main driving points," he said. 
 Burt Munro Challenge chairman Craig Hyde said knowing the club could rely on the ILT Foundation funding each year was "huge" for the club. 
"We are a non-profit club and all of us guys that run all the events are doing it for nothing. 
"If we couldn't get this funding, we couldn't get [the event] off the ground,"  he said.