Burnett to represent NZ
31 July, 2018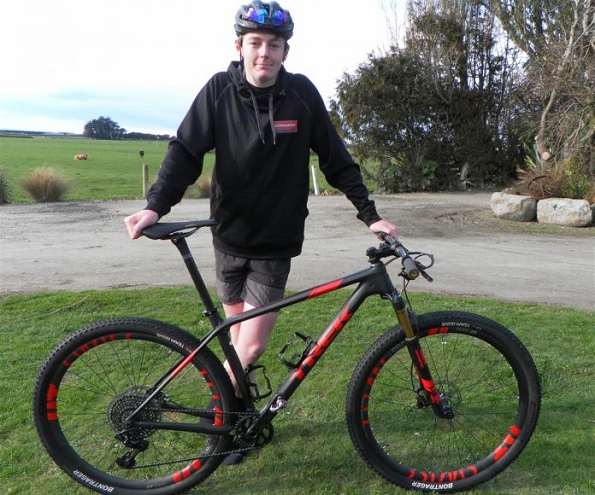 HARD work and determination to achieve his goals have rewarded Invercargill mountain biker Josh Burnett with the opportunity to represent New Zealand.
One of only two from the South Island, Burnett leaves for Switzerland on August 7 in a team of 14 young female and male riders to compete in downhill and cross-country events at the world junior mountain bike championships.
Burnett gained entry into the New Zealand team by his results in several designated events last year, including a second placing in the under-19 section of the national junior mountain bike championships in Wanaka.
His talent showed itself early when, as a 7 year old he began competing in BMX events. He continued BMX as a summer sport for several years, before deciding to give mountain biking a try. As a 12 year old he joined the Southland Mountain Bike Club (MTB club) competing in junior club events with good results.
The New Zealand secondary schools mountain bike championships in 2016 were his first real taste of serious competition.
"It was a real eye-opener," Burnett said.
"I didn't do too badly. I decided then to make mountain biking my main sport."
Since then Burnett has achieved considerable success at major Otago-Southland mountain bike events, including winning the open male section of the Southland championships in November, a fourth place in the 2018 Motatapu Challenge and a first in the 2018 MTB club Winter Enduro four-hour race.
It's little wonder Burnett is a successful competitor, given that his parents, Angela and David, are both multisport athletes.
Burnett is coached by former New Zealand Commonwealth and Olympic track cyclist Matt Randall.
Preparing for the world junior championships has included 300km a week on the road and workouts at the MTB club's tracks at Bluff, Sandy Point and Bald Hill (near Otautau), as well as strength training.
Burnett will spend a month in Switzerland preparing for the championships, which start on September 6.
"I'm looking forward to it. Should be a cool experience."
He has received support from the Community Trust of Southland, the BMX club, which organised a fund-raising evening, plus a grant from the MTB club, sponsorship from Dominator Doors and the Wanaka-based 4-Ever Race Team.
His long-term goals include a crack at the full-time professional mountain bike circuit and one day representing New Zealand at the Olympic Games.
Credit: Southland Express